Restorative Dentistry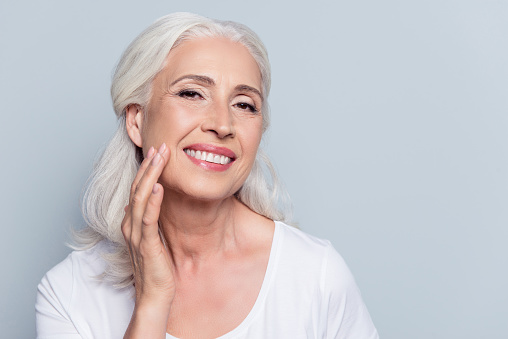 At Prosthodontic Associates of Long Island we specialize in prosthodontics, the field of dentistry focused on improving your oral health through innovative and advanced restorative treatments. We address both the aesthetics and functionality of the teeth.


Porcelain fused to gold crowns

Porcelain fused to gold crowns are a metal-based crown with porcelain baked to the outside for a cosmetically appealing look, while being stonger than ceramic crowns. They offer a natural looking solution for a broken tooth, cracked tooth, or teeth. Fused ceramic crowns can be colored to match the surrounding teeth to provide an attractive appearance.
Read more about crowns.


Full Mouth Reconstruction

If your smile needs a complete overhaul, you may need a full mouth reconstruction, where the procedures you need are dictated by the number of missing or damaged teeth. There may be a mixture of implants and natural teeth in order to give you a solid foundation to optimize your oral health and function.
Read more about Full Mouth Reconstruction.


Gold crowns

Gold crowns are often recommended for back teeth where the crown cannot be seen. Gold crowns are most like your natural teeth and your tissue adapts best to this material.
Read more about crowns.


Removable Partial Dentures

A removable partial denture is a way to replace one tooth to a full arch of missing teeth. We offer both partial and complete dentures. A partial may utilize metal clasps that wrap around the surrounding teeth, allowing your removable partial denture to remain securely in place.

Some partial dentures come with precision attachments, which are much more aesthetically pleasing. Precision attachments may eliminate the need for metal clasps.
Read more about Removable Partial Dentures


Complete Dentures

A complete denture is a removable full-arch restoration that consists of prosthetic teeth set in a flesh-colored acrylic base. Replacing missing teeth with a complete denture can improve your ability to properly chew, speak, and smile.
Read more about Complete Dentures.


There are two types of tooth extractions: simple and surgical. We perform a simple extraction on a tooth that has already erupted above the gumline. We perform a surgical extraction on a tooth that has become impacted, or has yet to erupt, such as wisdom teeth. Extraction may be necessary to prevent the spread of infection and other complications.