Complete Dentures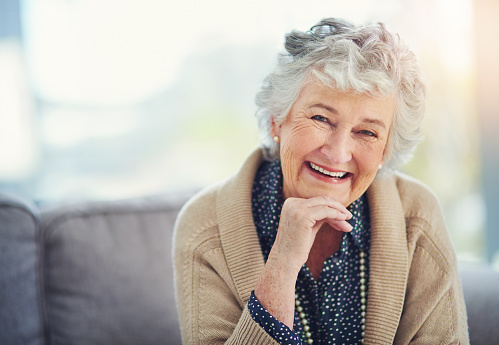 If you are missing all or most of your teeth, you may be wondering what to do next. Luckily, you have come to the right place! As a prosthodontics office, we here at Prosthodontic Associates of Long Island are experts in beautiful, safe, and effective tooth replacements. One of our most common appliances, complete dentures, may be the ideal solution for you!


Immediate and Conventional Dentures

A complete denture is a removable full-arch restoration that consists of prosthetic teeth set in a flesh-colored acrylic base. Replacing missing teeth with a complete denture can improve your ability to properly chew, speak, and smile. During your initial consultation, your doctor will determine if you are a suitable candidate for an immediate denture, conventional denture, or both.

Most people with substantial tooth loss still have problematic teeth that remain in the mouth. In these cases, we must first extract those teeth before we place a complete denture. An immediate denture, as the name suggests, is placed during the same appointment as your extractions.

During the healing period following your extractions, your gum tissues may shrink or change shape. For this reason, an immediate denture is largely considered a temporary solution. Once your gums are healed, we can fabricate a conventional denture. This usually takes place about eight to 12 weeks after your extractions.


Alternatives to Complete Dentures

Besides complete dentures, we also specialize in implant-supported prostheses. These prostheses are permanently fixed in your mouth, allowing your new appliance to look, feel, and function just like your natural teeth. The most common full-arch implant solutions include complete fixed bridges and overdentures.

In many ways, implant-supported restorations have become the industry standard for tooth replacements. If you currently wear a denture, we may even be able to retrofit it with dental implants to provide additional support. The many benefits of dental implants have made these restorations far more popular in recent years.

A complete denture may be the ideal solution for someone that requires a cost-effective and minimally invasive restoration. A well-fit denture can be a durable, successful, and beautiful way to replace missing teeth. Our use of advanced techniques and cutting-edge technology allows us to provide dentures that are more comfortable and aesthetically pleasing than ever before.


Caring for a Complete Denture

The proper care and maintenance can improve the appearance and longevity of your complete dentures. Even though they are artificial, dentures can still collect bacteria, plaque, and tartar that can affect your gums. A strong oral hygiene regimen can keep your appliance beautiful and your gums healthy.

Be sure to clean your dentures every day, especially after eating. We recommend running clean water over them to dislodge food particles and reduce instances of plaque. Then, gently brush your denture with a soft toothbrush using a mild denture solution or soap. Regular toothpaste is too abrasive and may damage your appliance.

While your dentures are out, be sure to handle them with care. We recommend holding them over a soft towel or a basin of water. This is also an excellent opportunity to clean your gums to reduce irritation or maintain proper oral health.

Above all else, keep your dentures moist at all times. A dry denture can become warped or brittle. To avoid these complications, place your dentures in a glass of water or mild denture cleanser overnight.


Schedule a Consultation

Find out if a complete denture may be right for you! Call 516-627-0999, and schedule a consultation if you would like to learn more about our restorative treatments.